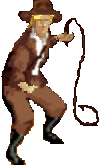 Mysteries & Secrets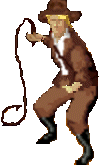 Of

Dear Friend!
We've found a new SECRET in Quest for Glory IV Shadows of Darkness!!!
You have to Start the game with a Fighter and call it: JAMES T. KIRK
Yes! It's the famous Captain of the U.S.S Enterprise!
Once you've stopped Avoozl and finished the game, type:
I'm a hero, not a doctor!
Now you are free to return back to the city of Mordavia, to the location of Erana's Staff!
Once there, type:
BEAM ME UP SCOTTY!
Suddently, the hill will disappear and you'll be teleported into your SHIP...
the U.S.S. EXITPRISE !
Another mission of Trek for Glory has got an end!


Some of the artwork in this web page are courtesy of Sierra On-Line Inc. All rights reserved